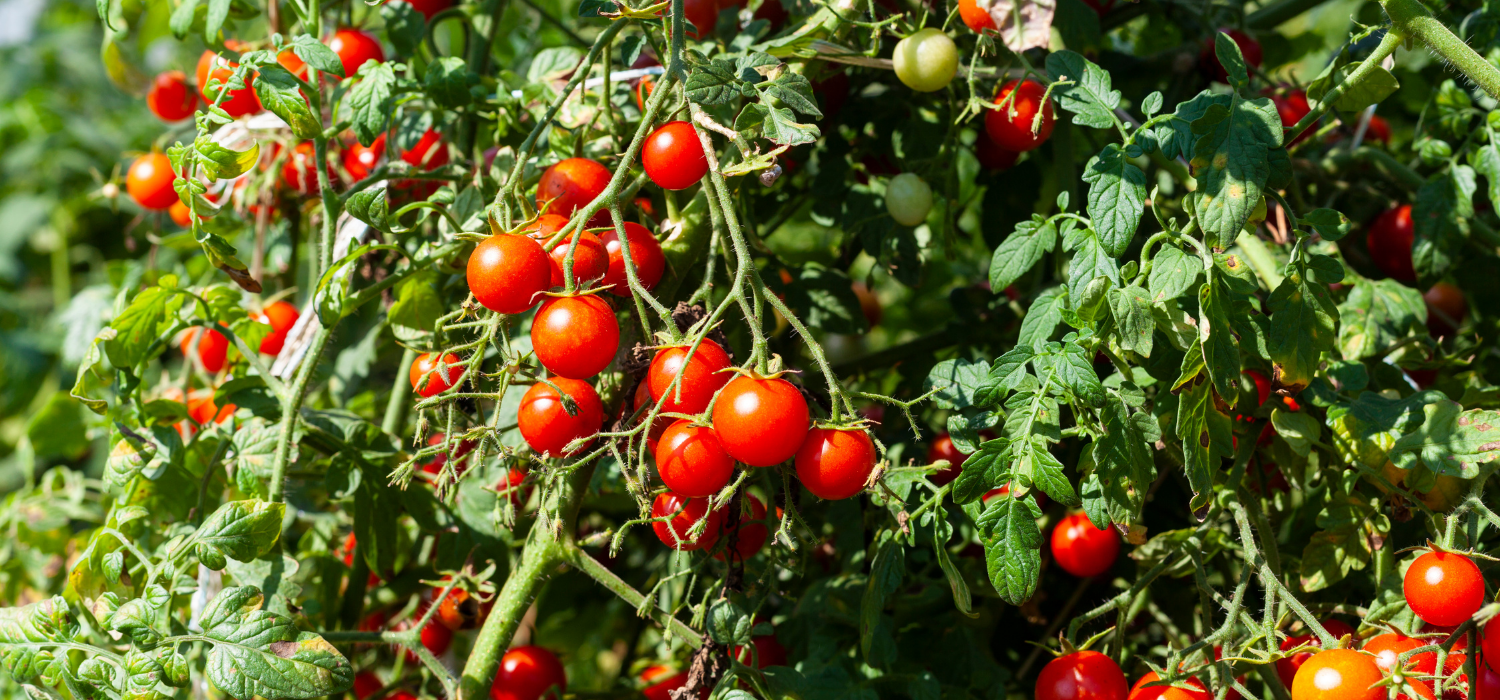 We are proud sponsors of the Tomato Club, the club's national sow and grow-along has got off to a brilliant start, inspiring people who have never grown their own toms before to get sowing!
The Club's founders, popular instagram gardeners Lisa-Marie Elkhadraoui @lisamaries_kitchengarden and Joe Harrison @grow_with_joe have created a brilliant community featuring tomato clinics, live Q&As and even a free downloadable guide on tomato growing!
Its not too late to sow tomato seeds, or to plant plug plants, read Lisa-Marie and Joe's top tips below and click here to join the club.
Joe and Lisa's tips for getting started
Have a think about how you like to eat your tomatoes? Do you like to enjoy them raw or cooked? Maybe both? Does a cherry tomato tickle your fancy or maybe a big beefsteak variety? This almost certainly should influence your final seed choice.
Think about where you will be sowing your seeds; heated propagator, windowsill, unheated greenhouse etc, as this will impact on when it's a suitable time to sow them.
Rather than shop bought plastic pots to sow your seeds in, why not get creative and use some up-cycled containers otherwise destined for the recycling bin.
Consider your final growing position and how much space you have. Will you be growing in pots, greenhouse, grow bags, raised beds?
Get yourself a few tall bamboo canes, some peat-free compost (or perhaps some coir) and a good quality compost nutrient booster such as Empathy's Tomato Starter.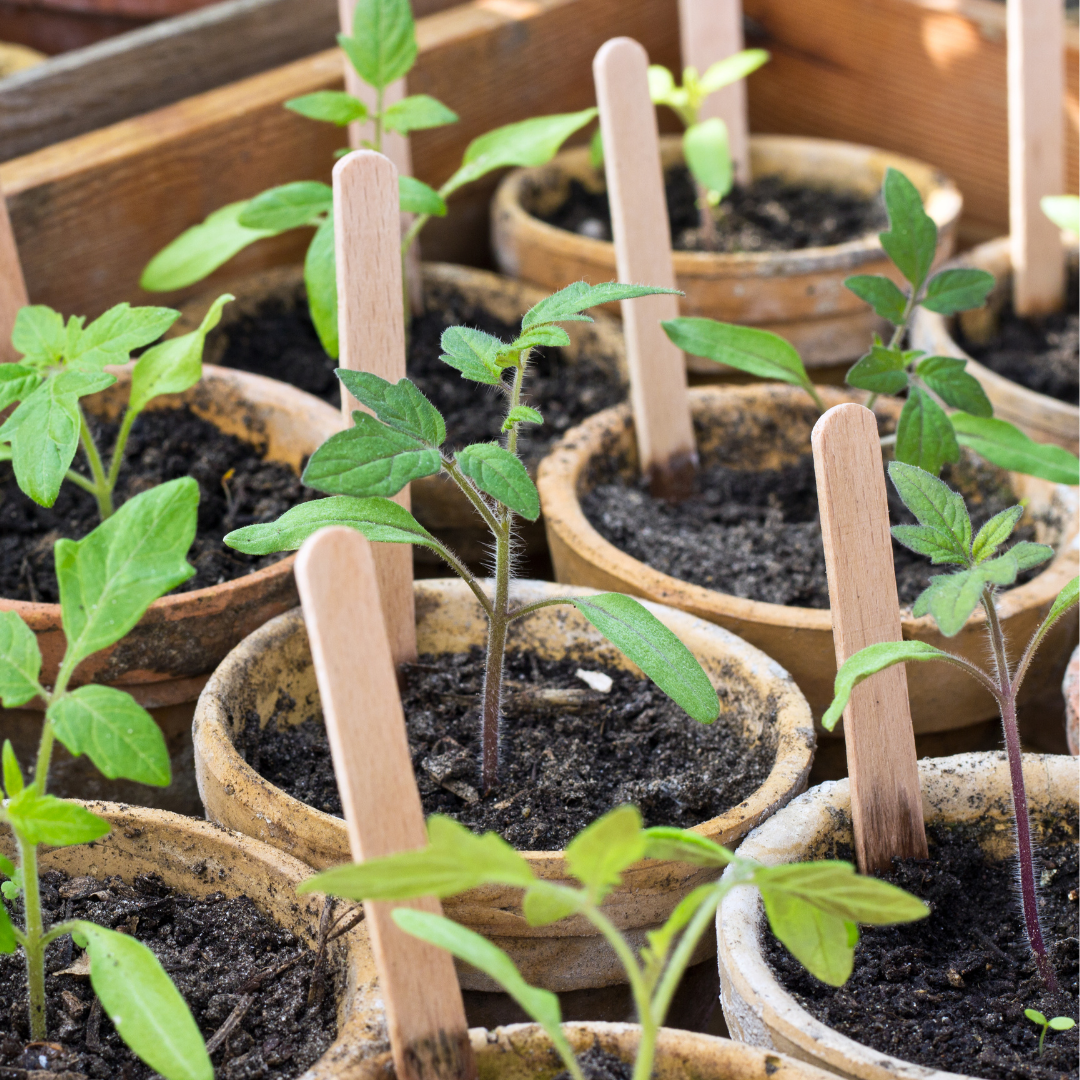 Tomato growing tips
It's a good idea to ascertain what type of tomato plant you're growing; whether it's a cordon variety (also known as indeterminate) or a bush variety (also known as determinate). Establishing this will ensure you know the preferred growing conditions and the correct way to care for your plant.
Ensure your plants get plenty of direct sunlight; tomatoes will thrive if they have around 8 hours of full sun each day. If you don't have somewhere which is bathed in quite as much sunlight, don't worry, you can still grow tomatoes but keep in mind that the less sunlight your fruit receives, the longer it will take to ripen.
It's really important you have a regimented watering routine. Tomatoes like to be kept moist and will not respond well if allowed to dry out between watering. Water your plants first thing in the morning before it gets too hot or early in the evening.
Providing your plants with adequate support such as bamboo canes is a must, especially when growing cordon varieties (single stem). Branches adorned with lots of fruit can be extremely heavy and will cause your plants to topple over and snap if they're not adequately supported and secured with ties.
The soil you planted your tomatoes in will only have enough nutrients to sustain your plant for a limited period. Left unfed, your plants can be more prone to pests and diseases, will produce fewer fruits and won't be as tasty. With this in mind, introduce a regular feeding routine every 7-10 days with a good quality tomato feed such as Empathy's Tomato Feed.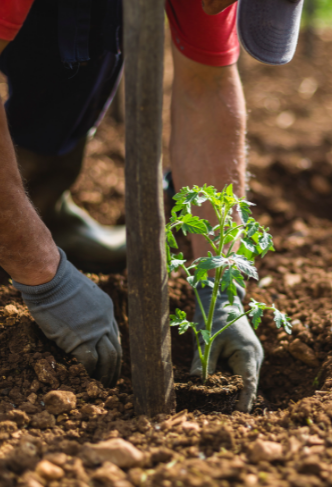 Grow your own tasty tomatoes and edibles
Our Grow Your Own products are natural alternatives to chemical feeds and support products, they work biologically to seed the soil with all the friendly mycorrhizal fungi and good bacterial elements that will nurture and feed plants to produce healthy growth and tasty crops.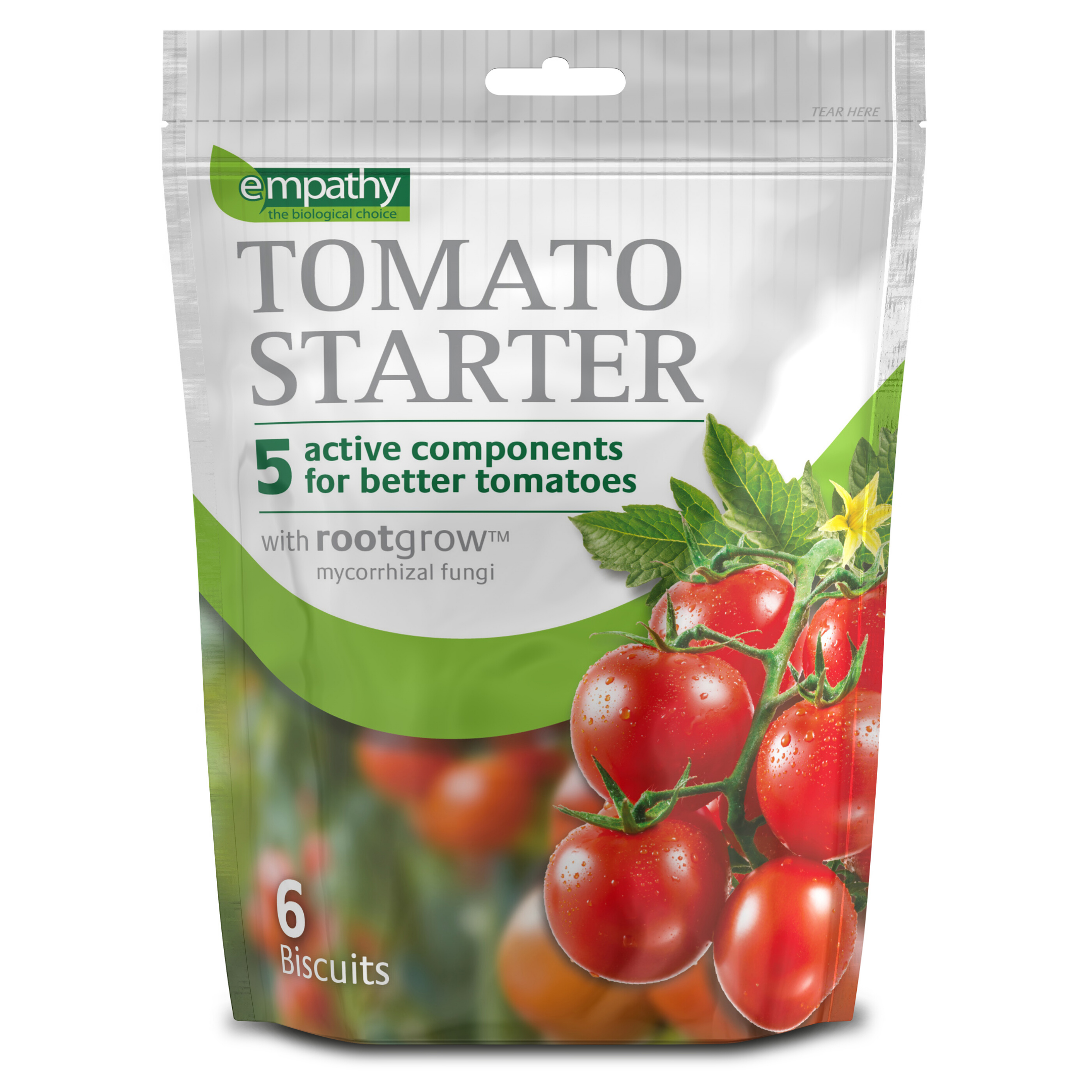 Empathy Tomato Starter biscuits contain rootgrow™ mycorrhizal fungi, beneficial bacteria, water-retaining crystals, bioadditives and up to 4 months worth of nutrients to give your plants the best start possible.
Buy Now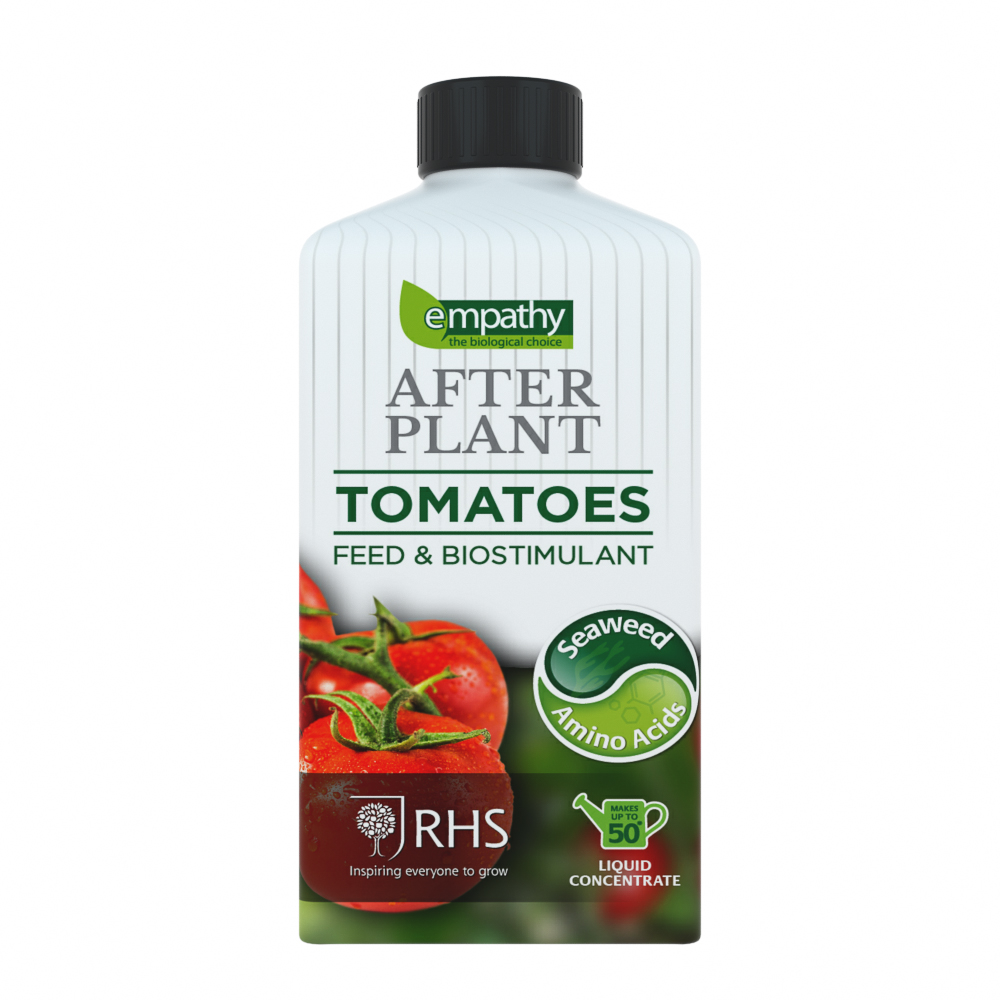 Empathy After Plant Tomato Feed is a high potash liquid concentrate containing seaweed extract, plant derived amino acids and other nutrients specifically formulated to benefit tomatoes and greenhouse plants.
Buy Now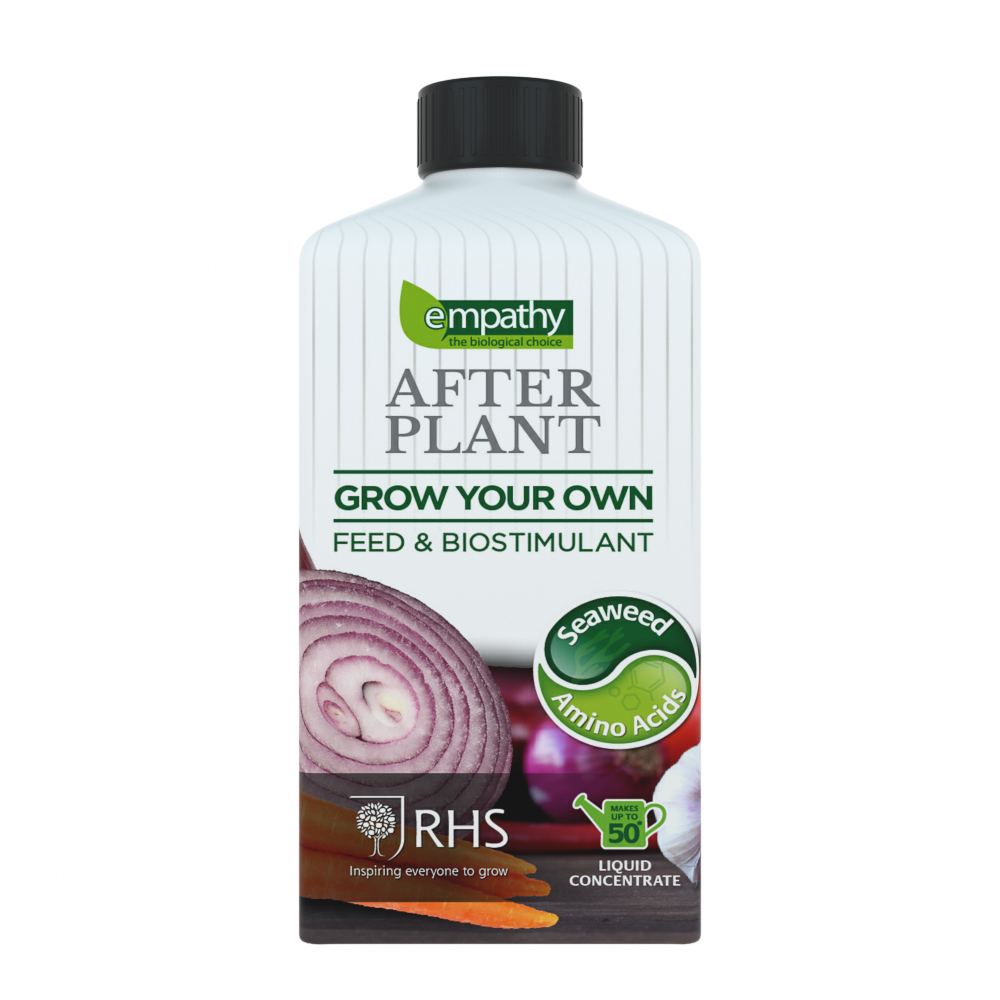 Empathy After Plant Grow Your Own is a ready to use liquid concentrate containing sustainably harvested seaweed, balanced with a refined fertiliser blend designed to promote the healthy development of veg and fruits in your garden.
Buy Now